Michael A. Callen, Senior Advisor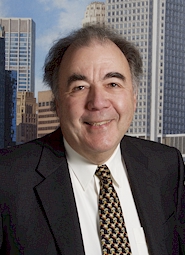 Since retiring from Citicorp as Vice Chairman and a member of the Board of Directors, Mr. Callen has continued to serve the financial services sector in a variety of senior capacities and as a consultant and educator.

In Saudi Arabia, Mr. Callen was Senior Advisor to the Chairman of The National Commercial Bank, the largest bank in the Middle East. Subsequently, as CEO of Avalon Argus LLC, he served as a consultant to institutions and investors in Korea, the Middle East, East Asia and Australia. He was President of AMBAC Financial Group and Chairman of the Audit Committee of Intervest Bankshares. He was the only foreigner to be elected Director of Woori Financial Group, the largest Korean Bank Holding Company. Since 2001, he also has been a Senior Advisor to Bank Experts Group.

Under the auspices of the U.S. Treasury and USAID, Mr. Callen has designed and taught courses on strategic positioning, marketing, risk management and corporate finance in Russia, Poland and the Czech Republic. He has served as a member of the faculty of Columbia Business School in New York and of Georgetown University's Masters in Science of Foreign Service program, where he also serves as a board member of the Institute of Diplomacy.

From 1965 until 1992, Mr. Callen's career at Citicorp spanned many countries and disciplines.  He served in Manila, Bombay, Calcutta, Beirut, Karachi, Athens, and Riyadh. Mr. Callen was the first Managing Director and CEO of Saudi American Bank (SAMBA) in Riyadh.

In 1982, Mr. Callen assumed responsibility for Citicorp's worldwide Treasury businesses. During his tenure, Citicorp introduced interest rate and foreign exchange options to the global marketplace for the first time. During the 1980s, Mr. Callen also had responsibility for negotiating international debt restructuring with Africa and Latin America.

For a period during his career, Mr. Callen was in Charge of Citibank's corporate banking activities in North America, the most extensive integrated corporate and investment operation in the nation. Mr. Callen's life-long interest in education prompted the creation of the Institute for Global Finance, a state of the art training facility for Citicorp worldwide.

In August 1987, Mr. Callen was appointed to Citigroup's Board and took charge of the Corporation's Investment Bank, which at the time of this appointment was represented in 90 countries. Subsequently, he took charge of all of Citigroup's corporate business globally, a position he held until 1992 as Vice Chairman.